In-Mould-Labelling (IML)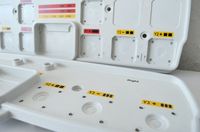 In-mould-labelling (IML) means that the moulding is imprinted directly during the process of pressing, which renders further production steps, such as bonding or painting by an external service provider and additional logistic steps redundant. The procedure of IML the way we offer it is intellectual property of Mitras Composites Systems and is patent pending.
By incorporating labels, logos or the like directly into the material, they are under a protective layer, which causes them to be more durable, scratchproof and less faded or yellowed.
The enhanced resistance to weather is another practical feature of IML as opposed to pad printing, which is why this procedure is particularly suitable for outdoor use. In addition, IML allows a flexible choice of design.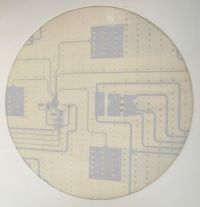 Other enhancements like anti-slip coating or flexible conductor tracks for electronic components are practicable as well and, upon request, it is also possible to consider further options, such as the integration of solar cells, the usage of neon colours or even the prevention of product piracy, in cooperation with our R&D department.
Benefit from our innovations!
© Mitras Composites Systems GmbH, Bahnhofstraße 32, 01471 Radeburg
Source: https://en.mitras-composites.com/In-Mould-Labelling_%28IML%29