Case Study: Tool relocation with the system RELOCATE-2-MITRAS
Mitras Case Study - Tool relocation rethought with system
Task
Customer-supplier relationships are characterized by a cooperative partnership based on trust and reliability. As in any relationship, irreconcilable differences or events can arise in customer relationships that open the way for new cooperation. The associated search for a new partner who has both the specific expertise and flexible machine capacities is difficult. Short-term delivery requirements as well as an imminent depletion of safety stocks in the event of a change of supplier are the concerns of every customer company. Soft factors, such as a high level of commitment in customer communication and solution-oriented action on the part of the supplier, make all the difference in day-to-day business - they distinguish a good supplier from an outstanding, thinking supplier.
Our approach
We can help you at short notice and competently in situations where you are considering a change of supplier. The foundation for this is our expertise in the technologies of hot pressing and injection molding & stamping of the thermoset materials Sheet Molding Compound (SMC) and Bulk Molding Compound (BMC). Combined with our high level of commitment as well as our flexible production system, we bring the best prerequisites for a successful mold relocation to us. A target-oriented mold analysis as well as a systematic production start-up enable a quick start of your component production. All our actions and processes are aligned with lean principles.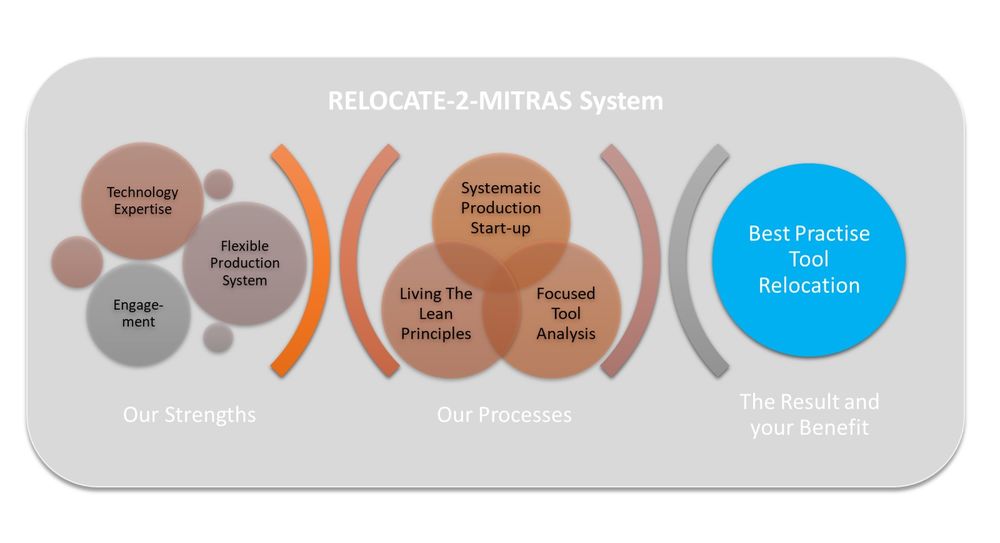 The RELOCATE-2-MITRAS system specially developed by Mitras Composites Systems for this purpose combines process-side system thinking based on lean principles with the commitment of our employees. All relevant areas, such as process technology, development, tool maintenance, quality assurance, purchasing, customer service center and logistics work hand in hand. Coordination is handled by a contact person who is also your point of contact. We live Lean!
Your advantages
We take care and don't let your supply chains break. Within 4 weeks after the first tool assessment, we will supply you with parts*. RELOCATE-2-MITRAS sees itself as your immediate help package, so that you can regain peace in your supply situation and concentrate on your core business.
Our RELOCATE-2-MITRAS system offers the following modules:
On-site tool analysis (optional - recommended): Competent immediate analysis of your tools within 24h at your site.
Tool transfer: Smooth and short-term tool transfer from your current supplier
MITRAS tool analysis: In-depth tool analysis within 24 hours after the tools have arrived at our premises.
Production readiness: Short-term production readiness of your tools
MITRAS parts delivery: Serial delivery within 4 weeks after evaluation of your tools*.
Our RELOCATE-2-MITRAS system offers you the following optional modules:
Customized tool adaptations: Customized recommendations to improve your tool, in terms of tool life extension or part price reduction.
Tailored part design adaptations: Design recommendations for your part, with direct effect on the cost structure of your part.
MITRAS New Tooling: Quote for intelligent new tooling, taking into account your objectives, e.g. reduction of part cost, new tooling, complexity of new tooling, product life cycle of your part.
MITRAS PIMC Evaluation: Are you currently coating your component retrospectively? Our Powder Inmould Coating technology (PIMC) is an attractive alternative to significantly improve the surface properties of your component. We will be happy to advise you and evaluate the feasibility.
Conclusion
Mitras Composites Systems has developed the RELOCATE-2-MITRAS system into a strength. Previous tool relocations show that our customers are satisfied switching suppliers. Long term partnerships developed.
Within the last 5 years we relocated more than 50 tools to us via the RELOCATE-2-MITRAS system. Economic and qualitative aspects played the decisive role for our customers to change suppliers. In "seemingly" uncritical situations, we have also shifted customer tools to us in the context of comparative offers. The advantages for our customers were shorter procurement times, a greater understanding of product and delivery quality, and improved proactive communication from the supplier to the customer.
Mitras Composites Systems: With us, you have a reliable partner at your side. We will be happy to advise you on your products and find solutions together with you.
Have we awakened your interest? Then contact us. You will receive a price quotation for your requested component within 24 hours. We are looking forward to your inquiry.
* under the condition of an intact tool, an immediate dispatch of the tool to us as well as the use of a standard raw material. Deviations from this target schedule will be communicated to you openly and transparently immediately upon initial inspection of the tool.
© Mitras Composites Systems GmbH, Bahnhofstraße 32, 01471 Radeburg
Source: https://en.mitras-composites.com/Case_Study__Tool_relocation