Injection Moulding & Injection Compression Moulding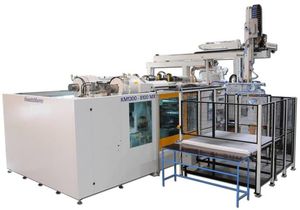 For the production of compact and structured components, we have access to injection moulding machines with clamping forces of 2,000 to 13,000 kN and a maximum component weight of 6.2 kg.
The injection moulding process allows a rather simple usage of automated implements, which is economically distinguishing even at medium quantities.
Injection as well as injection compression moulding is preferably used for large quantities.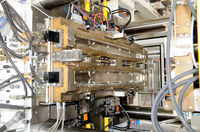 In thermoset injection moulding, both BMC moulding compounds with fibre lengths of up to 25 mm and injectable SMC with fibre lengths of up to 30 mm can be used. The semi-finished products are conditioned within a heated plasticising screw and are injected into the closed and heated tool under high pressure. There the material cures through a cross-linking reaction. Typical injection moulded parts have highly-structured surfaces and many perforations. Highest surface qualities can also be produced.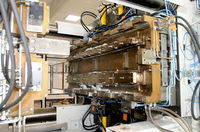 Apart from traditional injection moulding, our machine park enables us to also manufacture products realised by injection compression moulding. This special process is particularly suitable for large, thin-walled moulded parts requiring high surface qualities and renders very short cycle times possible.
Since injection and internal mould pressures are much lower compared to traditional injection moulding, economically advantageous tools and machines can be employed in injection compression moulding. Aside from that, the same moulding compounds as are used for injection moulding can be used in this process.

© Mitras Composites Systems GmbH, Bahnhofstraße 32, 01471 Radeburg
Source: https://en.mitras-composites.com/Injection_Moulding_%26_Injection_Compression_Moulding